Watch The Cheetah Girls
---
"They have one shot to show their spots."
The Cheetah Girls movie from 2003 is a Disney Channel movie centering around four high school girls who sing as The Cheetah Girls and are hoping to win a talent contest at their school. Through the talent contest they meet a sleazy producer who offers them a chance at fame but by changing their music and who they are as performers. This presents a dilemma for the four as individuals and they must decide what to do in order to follow their dream. Added to the mix is some entertaining music, an adorable little dog and a surprise ending.
|
2003
|
1 hr 33 min
|

/

10
Cast

Director

Oz Scott

Language

English
The Cheetah Girls News
Meet The 13th 'Dancing With The Stars' All-Star, Sabrina Bryan
August 27, 2012 @ 11:15 am PST
|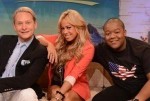 The thirteen "Dancing With The Stars: All-Stars" selection should be out to send a message to fans. Former Cheetah Girl Sabrina Bryan announced Monday morning on "Good Morning America" that she won the three-way horse race to select the final contestant. She'll be looking to erase her fifth-season vote off despite earning a perfect score in her final week.
Read More


Watch The Cheetah Girls Trailer


Watch The Cheetah Girls Online - Watch online anytime anywhere: Stream, Buy, Rent
The Cheetah Girls is currently available to watch and stream, buy, rent on demand at Amazon, Google Play, YouTube VOD online.