Watch The Cheetah Girls 2
---
The Cheetah Girls movie captured a wide range of admires when it first debuted. Now with the sequel The Cheetah Girls 2, fans get to be involved in another adventure. The four girls that make up the cheetah group are from different ethnic backgrounds. Caucasian, African American, Latino and mixed. They pride themselves on all being different, but able to come together in friendship and music.
Shanelle is going through a hard time in this movie. Her mother has a new boyfriend that is consuming all of her time. Shanelle feels left out, because it used to be just her and her mom. Her mother gets invited to go to Barcelona to see her boyfriend and Shanelle does not want to go. The cheetahs see an opportunity when they discover that there is a music audition during the same time. Galeria's mother agrees to be a chaperone and go with Shanelle and her mom since she is the cheetah's manager.
As soon as the cheetahs' step off the plane, they hit the ground flying. They love to shop and like to sing in the streets. They audition for the show and get accepted into the competition. They make lots of new friends and potential love blossoms. Shanelle grows close to one of their competitors because she can speak and understand Spanish.
Galleria has a hard time getting the girls to focus and practice. Aqua is busy with Galleria's mother focusing on the fashion side. Derenda is busy finding love with a fellow dance partner. Shanelle is getting closer with her friend from Barcelona. So that leaves Galleria feeling left out and lonely.
Shanelle eventually softens up towards her mother's boyfriend, once she realizes that he really loves her mother and intends to marry her. Mericel's mother tries to sabotage the cheetahs and get them kicked out of the competition, so her daughter can win. She almost succeeds and this brings the cheetahs back into focus.
They buckle down and practice hard and put on the performance they are known for. The Cheetah Girls 2 is a movie that involves lots of action, comedy, drama and a little romance. The music from the sequel engages the audience just like in the original. The girls are more grown up now and dealing with more mature problems.
|
2006
|
1 hr 33 min
|

/

10
Cast

Studio

Director

Kenny Ortega

Language

English
The Cheetah Girls 2 News
Meet The 13th 'Dancing With The Stars' All-Star, Sabrina Bryan
August 27, 2012 @ 11:15 am PST
|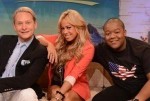 The thirteen "Dancing With The Stars: All-Stars" selection should be out to send a message to fans. Former Cheetah Girl Sabrina Bryan announced Monday morning on "Good Morning America" that she won the three-way horse race to select the final contestant. She'll be looking to erase her fifth-season vote off despite earning a perfect score in her final week.
Read More


Watch The Cheetah Girls 2 Trailer


Watch The Cheetah Girls 2 Online - Watch online anytime anywhere: Stream, Buy, Rent
The Cheetah Girls 2 is currently available to watch and stream, buy, rent on demand at Amazon, Google Play, YouTube VOD online.